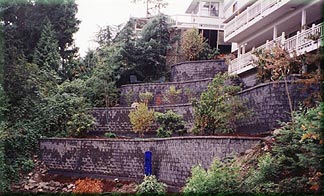 Seattle Retaining Walls Contractor
Retaining Wall Systems of Seattle. Offers:
Walls of Engineered Strength and Simple Beauty
Full Warranty of All Our Work
All Types of Retaining Wall Structures to Choose From
Excavation Work Available
Sixteen Years Experience With Satisfied Customers Since 1984, Retaining Wall Systems, Inc. (RWSI), has successfully installed walls of rocks, timbers, poured concrete and inter-locking blocks. Our specialty is designing and constructing walls made of StoneWall SELECT material. Why? Because StoneWall SELECT walls look better, last longer and often cost less.
For the complete StoneWall SELECT story, visit their website: www.selecticd.com
Retaining Wall Systems Inc
SERVING PACIFIC NORTHWEST